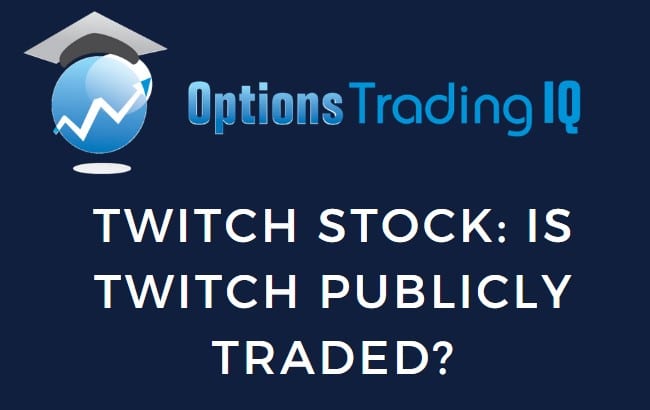 Today, we are looking at Twitch stock and answering the question, is it publicly traded? Read on to learn more about Twitch.
Contents
The Twitch video live streaming platform is extremely popular for creating content from video games, esports competitions, and other popular forms of content creation.
Despite not having its own stock symbol, we are going to discuss some of the indirect ways that you might be able to invest in Twitch.
Twitch was founded back in 2011 and has been in operation for just over a decade.
Twitch was famously known as Justin.tv before it became Twitch.
Amazon is Twitch's parent company, and users can redeem many benefits on Twitch if they are subscribed to Amazon Prime.
While Twitch will never independently be listed on the stock market, it's possible to indirectly invest in Twitch by purchasing Amazon's stock.
Many investors may be intrigued by the idea of investing in Twitch through Amazon's stock, although others may not be interested in this type of indirect investment.
Amazon hasn't always owned Twitch's streaming platform.
Three years after Twitch launched in 2011, Amazon decided they wanted to buyout the video streaming platform for 970 million dollars.
This acquisition was essentially one of the ways for Amazon to compete with Google's video streaming platform, YouTube.
The desire for Amazon to become a part of the gaming industry by acquiring Twitch was more interesting when it was initially happening back in 2014.
There's no doubt that Twitch's platform would be what it is today without the acquisition from Amazon taking place.
Amazon launched Prime Gaming on Twitch's platform shortly after the acquisition, and that program still continues in 2022.
For $14.99 per month, users can subscribe to gain access to free games, add-ons, and channel benefits.
The partnership between Amazon Prime and Twitch is stronger than ever, and there's no sign of that changing any time soon.
It is estimated that Twitch's video streaming platform generated 2.6 billion dollars during the 2021 financial year.
The company's growing revenues are impressive, especially if you consider the increase from $1.9 billion in 2020. In 2019, Twitch's gross revenue was $1.25 billion, and the year before that, Twitch generated about $900 million in gross revenue.
With revenues growing and the company steadily generating more and more revenue every single year, it's extremely appealing for investors to want to gain exposure to the company.
Unfortunately, the only way to do that right now is by investing in Twitch's parent company, which happens to be Amazon.
It's unclear when Twitch may reach its peak gross revenue numbers, but Twitch's live streaming platform is the industry leader right now compared to other platforms like Dailymotion and Streamable.
While YouTube's platform is more directly focused on letting content creators upload video files, Twitch's platform is focused on mostly live streaming, particularly for eSports, but not exclusively.
Twitch and YouTube are competitors in a sense because some YouTube content creators do stream, although others swap between platforms to upload videos and Livestream.
According to user statistics and demographics, most of Twitch's live streaming audience is below the age of 35, while less than 30% of the platform's users are above the age of 35.
The younger audiences could have an impact because it definitely means that as this generation of users grows up, it'll be important to keep an eye on whether the average age of active users increases as the generation ages as well.
How this could potentially impact revenues is also important in the longer term.
As we've mentioned, there's no Twitch stock symbol on any stock exchange.
The only way to invest in Twitch is to buy the platform's parent company stock.
By investing in Amazon, you are indirectly also investing in Twitch's streaming platform.
Amazon finalized its purchase of Twitch.tv in 2014 and started launching new features immediately afterward.
The company continues to implement new features that are integrated with Amazon Prime every month.
While there are only a few front runners in the industry of live streaming for the video gaming industry, there's no doubt that Twitch is used more than any other platform for this particular purpose.
More than 22 billion hours of Twitch streaming footage were watched in 2021, which is expected to increase in 2022.
Amazon purchased Twitch.tv in 2014.
Twitch is the best live streaming provider for gamers and content creators.
Twitch was founded in 2011 and is headquartered in California.
Investors should consider investing in Amazon if they want to own Twitch shares.
While Amazon owns more than 40 subsidiaries,  Twitch is undoubtedly one of the largest platforms that are under the parent company of Amazon.
Most traders will agree that you'll get a decent amount of exposure to Twitch and the other subsidiaries of Amazon by investing directly into the Amazon stock.
Some investors may be interested in a couple of alternative investment opportunities.
If you are looking for options other than buying into Twitch's parent company stock, then maybe one of the alternate opportunities will catch your eye.
Google / YouTube 
More than 10% of all of Google's revenue comes from the YouTube video platform.
Google acquired the YouTube platform in a billion-dollar agreement more than a decade ago. Google and YouTube continue to be excellent partners, and the YouTube platform has come a long way since it launched in 2005.
YouTube is also a major competitor to Twitch's streaming services, although the number of YouTube's streaming users is a fraction of what Twitch has on its platform.
Even still, investing in Google is a great way to gain exposure to YouTube, although every investor should weigh this decision carefully before deciding to risk their money.
Activision
While Activision isn't directly competing with Twitch in any way, many of Activision's popular gaming titles are featured on content creator's channels on Twitch's streaming platform.
Activision was founded in 1979 in the State of California. It could be an ideal investment for some investors that want to buy in on the video gaming industry in 2022 or beyond.
Huya
Huya is another similar investment opportunity that has some similarities to the Twitch platform.
This live streaming media platform is directed toward the Chinese market, and the company is based in Guangzhou.
With more than 2,000 employees after being founded just six years ago in 2016, this is undoubtedly one of the fastest-growing streaming platforms right now.
While Twitch will likely remain the live streaming frontrunner for many years to come, YouTube and other growing streaming platforms are looking for ways to knock Twitch out of its position as the industry leader.
Investors should consider investing in some of these alternative stocks while not eliminating the idea of investing in Twitch's parent company stock which happens to be Amazon.
Does Twitch have a stock price? Since Twitch isn't an independent company listed on any stock exchange, there's no direct stock quote for Twitch.
The closest way to get a stock price for Twitch is to look at the platform's parent company stock.
Amazon's stock is currently trading at about 115 dollars per share in July of 2022.
With millions of employees and more than 470 billion in revenue in 2021, it's hard to find a lot of negatives about investing in Amazon.
One of the potential negative factors that investors may have to consider when investing in Amazon is the fact that the company does not pay out a dividend to its shareholders.
Despite not paying a dividend on a quarterly schedule, Amazon's stock has been proven reliable and profitable for many years.
While Twitch has only been around for a little over a decade, it has had a tremendous impact on the video gaming industry as well as the live streaming world of entertainment.
There are so many reasons to be interested in investing in the Twitch streaming platform, especially since the company's user base and revenue numbers continue to grow at incredible margins.
The future for a company like Twitch is very bright, even though there may never be a direct opportunity for investors to buy Twitch shares directly.
Investors will have to settle for the opportunity to invest in Twitch by purchasing Amazon's shares instead indirectly.
Twitch has evolved from a minor live streaming alternative into a worldwide game streaming and entertainment leader.
With newly formed partnerships with Amazon Prime, investors should be intrigued to potentially invest in the years to come to see the company grow during its second decade in operation.
Trade safe!
Disclaimer: The information above is for educational purposes only and should not be treated as investment advice. The strategy presented would not be suitable for investors who are not familiar with exchange traded options. Any readers interested in this strategy should do their own research and seek advice from a licensed financial adviser.