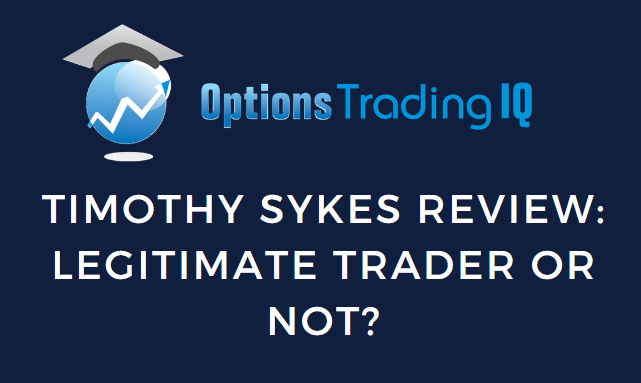 Contents
Timothy Sykes is an American entrepreneur, hedge fund manager, and stock trader.
He is the founder of several websites, most recently Profit.ly, a social media and educational platform for investors and traders.
Sykes is also the author of two books: An American Hedge Fund (2007) and The Trading Playbook (2014).
In his early 20s, he turned to day trading penny stocks and made $1 million by age 26.
In 2007, he founded TimothySykes.com, a website that provides education and training for active investors and traders.
Almost seven years later, In 2014, Sykes launched Profit.ly, a social media platform that allows investors and traders to share their trading activity and connect with others in the community.
The platform also provides access to educational content, including video lessons, webinars, and blog posts.
Sykes is a frequent guest on financial news programs, such as CNBC, Fox Business, and Bloomberg TV.
He has also been featured in publications such as The Wall Street Journal, Forbes, and Money Magazine.
Sykes started trading early on in life, like many aspiring traders.
He reportedly cut many of his classes at Tulane University to day trade penny stocks.
All of this trading paid off, though; while day trading his Bar Mitzvah money, he turned just over $12,000 into $1.6 million by the time he graduated in 2003.
After graduating from Tulane, he started his own hedge fund called The Cilantro Fund.
The fund focused on Micro Cap Stocks and was a long-short strategy fund, a strategy that was popular at the time.
His new fund and his young age garnered a lot of attention for Sykes initially, especially when he landed on Traders Monthly's "30 under 30" list in 2006.
This was not without controversy, though.
One of the reasons he was honored on the list was due to his ranking at Barclays, except it wasn't the British banking giant.
It was the Barclays Group out of Iowa.
But as they say, all press is good press.
Once the fund closed in 2006 from heavy losses, he self-published a book on trading and his experience with the Hedge Fund in 2007.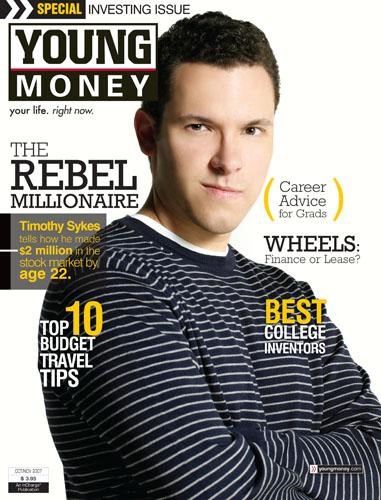 **Photo Courtesy of "Young Money – https://www.flickr.com/photos/youngmoneymag/2247754192/, CC BY-SA 2.0, https://commons.wikimedia.org/w/index.php?curid=112270773" **
With the success of personal trading and the lessons learned from opening and closing his own fund, he leveraged his press and success into the digital realm.
He launched two sites in the few years after his fund closed; the first was Investimonials.com which was used to review brokers, financial media, and financial services based on user reviews.
His second and current is timothysykes.com which he uses to teach new traders his trading secrets.
He later will opened up another site called Profit.ly, which is reviewed in more detail below.
Whether you like the man or not, it is hard to call him a bad trader.
He consistently ranks in the top 5 on the trading leaderboard on his site profit.ly and has helped many students find profitability in their trading.
These stand out as huge positives for him, as many so-called gurus never post their live trades in a verified manner and are not open to criticism the way Tim is.
He is nothing if not humble and transparent, and these are fantastic signs of the legitimacy of a person or service.
Further proof that he is looking out for the traders he teaches is his fearlessness to call out celebrities and stars he thinks are schilling pump and dump schemes.
One of his most notable is when he called out Shaquille O'Neal when he thought he was pitching one to his audience.
Over the years, Timothy Sykes has made a number of different stock picks.
Some of his most successful picks have been in penny stocks.
There is no doubt that Tim can call some of these low float stocks like no other.
A few of his more spectacular penny stock picks include:
– HAWK: This stock gained over 1,000% in just a few months after Timothy Sykes picked it.
– GRPN: This stock gained over 500% in just a few months after Timothy Sykes picked it.
– YELP: This stock gained over 400% in just a few months after Timothy Sykes picked it.
While these are some of Timothy Sykes' most successful penny stock picks, it's important to remember that penny stocks are and can be very risky.
This is another positive for the reputation of Timothy Sykes.
He posts his losses as well.
And he does it all on his Verified Trade Record on Profit.ly.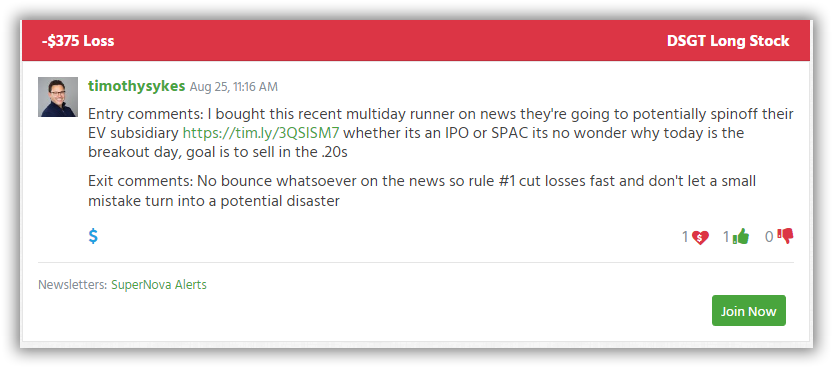 His willingness to show the complete reality of trading adds a lot to his credibility, which can be seen by his continuously growing online following.
To date, Timothy Sykes has been successful in penny stock trading, making $1 million by age 26.
He also claims to use a variety of technical indicators and chart patterns to predict price movements.
While some have praised Sykes for his willingness to share his knowledge with others, others have accused him of being less than sincere.
As a general rule, penny stocks are stocks that trade for $5 or less per share.
Another name for these types of stocks is low float.
These stocks are usually very volatile and can offer the opportunity for huge profits.
However, they can also lead to huge losses just as easily.
Timothy Sykes primarily focuses on small-cap stocks.
These are stocks with a market capitalization of $300 million or less.
He believes that these stocks offer the best opportunity for explosive growth.
One of Timothy Sykes' trading strategies is that of a trend follower.
This means that he looks for stocks already in an uptrend and then tries to ride that wave higher.
The same is true for trying to find stocks already in a downtrend and ride that wave lower.
This type of trading can be very profitable because you can catch a large move, but it does come with a higher risk.
This is because you have the possibility of buying into a stock at its highs and then selling when it starts to drop.
Another of Sykes's favorite strategies is trading the Pump and Dump.
A pump and Dump is a stock scheme that usually requires someone to buy into a penny stock and then put out a lot of positive press and recommendations to buy it.
The price of the stock increases at a faster and faster rate as more people buy into it, and the number of available shares continues to fall.
Once the person who puts out all press is satisfied with his/her profit, they sell their shares back to everyone buying it.
Since it was never an organic rally, to begin with, this huge block of shares and price hit forces everyone who bought the top to start to sell, and then the opposite of the wave up happens.
Everyone is trying to sell out their shares as fast as possible.
What is unusual about Sykes is that he actively enjoys this strategy.
While he does not conduct them himself, he has been known to actively short them to make a profit on the move back down to the starting price.
This has the potential to be an insanely profitable strategy, but it is fraught with dangers because you never know when the squeeze higher will end.
One other thing to note about Sykes's trading style, in 2010, CXO Advisory group (A trading consulting company out of Connecticut, USA) analyzed the available data online about Tim's trading record.
They concluded that he was able to identify pump and dump schemes in real time with "Economically accurate consistency."
This is just a fancy way to say that Tim Sykes has a legitimate edge in his trading strategy.
As a buyer, beware; they did warn about the scalability of some of his plays. Scalability is always an issue with low float stocks, though.
The source and full article be read here: https://www.cxoadvisory.com/short-selling/timothy-sykes-penny-stock-pump-and-dump-detective/
One last thing to note about Timothy Sykes' trading strategy is that he uses leverage.
Leverage is when you borrow money from your broker in order to trade more shares than you could with your own capital.
For example, let's say you have $10,000 in your account and want to buy 1,000 shares of a $5 stock. With leverage, you could buy 2,000 shares instead.
While this can lead to bigger profits, it can also amplify your losses just as easily.
This is why it's important to be very careful when using leverage in your trading.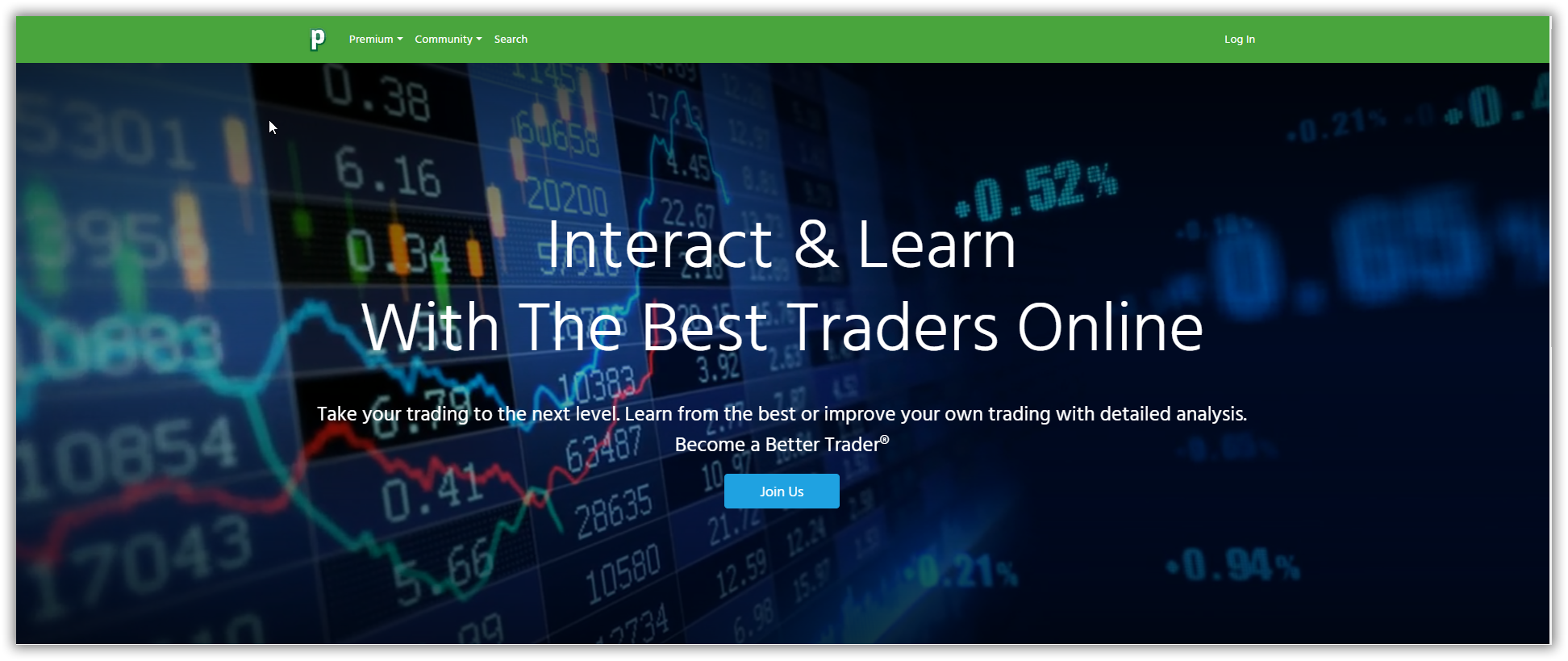 Profit.ly is a website that allows users to track their stock trading progress and share their results with others.
The site was founded by Timothy Sykes, a successful penny stock trader who has written several books on the subject.
The site is free to use, and users can create a profile and start tracking their trades immediately.
Profit.ly also offers paid memberships for those who want access to more features, such as advanced trade analysis and live chat support from Timothy Sykes himself.
In our review of Profit.ly, we will take a look at what the site has to offer, how it works, and whether or not it is worth paying for a membership.
How Does Profit.ly Work
Profit.ly is a platform that Timothy Sykes uses to track and share his stock trades.
He also encourages other traders to use the site so they can learn from each other and analyze their trades.
In order to get started on Profit.ly, you first need to create an account.
Once you have done that, you will be able to link your broker account with the platform.
This will allow Profit.ly to track your trades and give you some valuable insights into your trading activity.
What it Offers
Profit.ly offers a ton of features; one of the most useful features is the ability to see how other successful traders are doing.
By following these traders, you can learn from their mistakes and victories alike.
This is an excellent way to improve your own trading strategy.
In addition to following other traders, you can also participate in discussions on the Profit.ly forums.
Here, you can interact with other users and get some valuable feedback about your trading decisions.
Is Membership Worth it?
All in all, Profit.ly is an excellent platform for both experienced and beginner traders alike.
If you are serious about becoming a successful trader, then it is highly recommended that you check out the platform.
If you like what you see, a paid membership might be the thing to push your profitability higher.
Tim Sykes on Profit.ly
As has been talked about a lot so far, Tim is very active on his site Profit.ly.
He posts all of his trades, which are verified by the same system that every other user' is.
Tim has also built in the ability to learn from him directly on the site.
He has Several plans available to every trader on Profit.ly.
The first is called "Tim's Alerts," and this gives you the basics of access to Tim.
You get chat room access, daily watchlists, real-time alerts, and access to both iPhone and Android apps.
You get all of this access for $75/month.
The next level up is the "Pennystocking Silver" plan.
In this plan, you get all of the same perks as the Alerts plan, but you also get access to his extensive video library and Tim Sykes's weekly Video Lessons.
So the real prize here is the incredible education you will be getting.
You get all of this education for an additional $75/month($150 Total).
Finally, there is the equivalent of the platinum package.
This is called "Tim's Challenge," and you must apply and pass a qualification before you are accepted into this trading program.
All this information is readily available on Tim's Profit.ly page, as is a host of frequently asked questions!
A review of the plans
Tims Alerts
As we touched on above, Tim's Alerts is the entry-level plan to get you started trading Penny Stocks with Tim Sykes.
It offers you Tim's daily watchlist of 5-10 stocks every day before the market opens.
In addition to this, it will give you push notifications and emails as quickly as possible after Tim places a trade himself.
You can then decide if you are going to follow suit or pass on the trade.
Being an introductory plan, you get none of the educational materials offered by the other two plans, but this is more than enough to get you started trading in Penny Stocks.
It will also give you a good model to watch in almost real-time for entries and exits.
By far, the biggest perk of the plan, though, is access to his chatroom.
The room is a good place to learn and grow as a trader and network with other like-minded trades who are at different stops on their journey.
PennyStocking Silver
You will get all of the same access you get in the Tim's Alerts plan as far as watchlists, alters, and chat room access is concerned.
What makes this plan worth the extra money is the vast educational resources that come with it.
If you are serious about trading and can afford the additional cost, then this is where you should start.
It is true that Tim's Alerts will give you all you need to get started, but this will build an actual foundation in trading.
And like any house, you are only as strong as your foundation.
With more than 7,000 hours of video lessons and a weekly lesson tailored to the current market, this is where you will really begin to get everything together as a trader.
The education alone is worth the cost, but the alerts and chat room just mean you can potentially earn your monthly fee back while you learn.
Tim's Challenge
This is the top-level tier of Tim's trading services; you need to apply to even be accepted into it. But this is the place to aim for if you want to make a career out of trading.
You will get access to Tim in a way the other plans don't allow as well as a more granular education in all things trading the Timothy Sykes way.
If you are lucky enough to get accepted, you will be learning along the same path that has produced more Millionaire students than any other trading teacher.
The Chatroom
This part is not a plan that you can pay for, but it's included in them all: access to Tim's daily chatroom.
I think it's important to mention it in its own section because this will allow you to speed up your trading journey by leveraging the community Timothy Sykes has built around his education and alerts.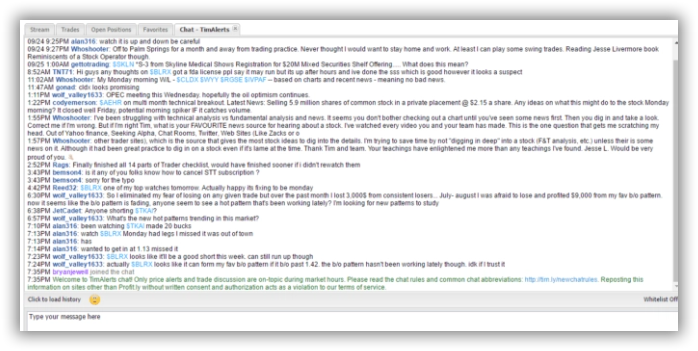 I think the community is vital to education and success, and this is no different.
The quality of this community pales in comparison to a lot of the groups you will find on Facebook and Discord.
Most of those are either Pump and Dump shops themselves or just recycling the same old information you can find by Googling around the internet.
Tim's chat is built from quality because they all learn from the same source. A
ll the material matches, and all the systems Work.
This is easily verifiable by looking back at the Profit.ly records for Tim, his moderators, and his students.
The community is worth it.
Pros and Cons of Timothy Sykes trading service
There are many different opinions out there when it comes to Timothy Sykes and his trading service.
Some people feel that he is a great resource and has helped them make a lot of money, while others feel that he is nothing more than a fraudster.
So, what are the pros and cons of using Timothy Sykes' trading service?
PROS:
Many people have had success with Timothy Sykes' trading strategies and have made a lot of money following his advice.
He provides a lot of useful information on his website and in his newsletters.
He has a very good track record when it comes to picking stocks.
Access to a chatroom/community of other competent traders
Daily updates and live trading verification through Profit.ly
Access to a treasure trove of educational resources available with the higher-tiered plans.
CONS:
His trading strategies can be very risky and may not always work.
He charges a monthly fee for his service, which can be expensive for some people.
Overall, there are both pros and cons to using Timothy Sykes' trading service.
It is important to do your own research and decide if his service is right for you before signing up.
Other Student Reviews
Review #1
"This was my first foray into stock trading, and I have to say that Timothy Sykes' trading plan was incredibly helpful. It walks you through every step of the process, from finding penny stocks to analyzing them for potential profit. I'm up $2,000 since I started following the plan a month ago, and I couldn't be happier." – Jerry, Profit.ly user
Review #2
"I've been trading for years, but I still found value in Timothy Sykes' plan. He has a unique approach to penny stocks that I hadn't considered before. I made $5,000 last week following his advice." – Sara, Profit.ly user
Review #3
The challenge is great. I wish I had joined before getting the silver subscription because there is more important info in the challenge than the other options. The best part about the challenge is that there are other successful traders who I can learn from. I gave 4 out of 5 stars because I didn't know the challenge was "learn as you go" and not a mandatory set time where I have to be in a webinar. -Parag, Trustpilot reviewer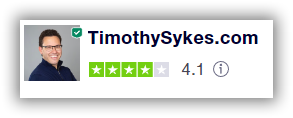 With a 4.1 rating on Trustpilot and a huge and growing base of successful students, I think it is easy to see the pros of Tim Sykes as a trader and a teacher.
He appears as legitimate as they come.
From his own learning curve when trading in college to the lessons he learned about scaling when he was trading his hedge fund,
I think he has leveraged these to be a net positive on the trading community.
He tries to Mentor his students and creates an environment where you can learn at your own pace while still profiting from his daily alters.
He is trustworthy, and the fact that he has made more millionaire students than any other guru just further supports this claim: I think that Tim is as Legit as they come.
We hope you enjoyed this article on Tim Sykes.
If you have any questions, please send an email or leave a comment below.
Trade safe!
Disclaimer: The information above is for educational purposes only and should not be treated as investment advice. The strategy presented would not be suitable for investors who are not familiar with exchange traded options. Any readers interested in this strategy should do their own research and seek advice from a licensed financial adviser.