March 1, 2023 — A few years back one we featured the Best Places to Retire in South Carolina in one of our Blogs. Not only were they attractive places to retire, but most had the added advantage of being very walkable towns. The piece prompted a lot of interesting discussion and Comments. It even inspired one of our Members, Judith, to go and visit many of them on a two week trip. Happily for Topretirements, she then reported back to the Blog on her experiences.
We have reprinted her trip report below. Even better, when we contacted Judith about this article, she reported that she had gone back to many of the same towns a few years later She provided us with her notes on that tour, which are in bold below. We added a few additional details to some of those places to retire (they are in italic). Here goes:
---
Judith's Trip Report to SC Best Places to Retire
I did a two week tour of South Carolina from Sept. 21 to Oct. 6 (2016). It's a quiet Saturday morning now, and I have time to put down my thoughts, for those who asked.
Travelers Rest, SC. I entered the state of South Carolina on the freeway from Asheville, NC, which allowed me to pass through Travelers Rest. I was charmed! Loved the tall pines and rolling hills. Just beautiful. I must return for a second look. Editor comment: With a population of about 5,000, Travelers Rest went unnoticed until the recent development of the Swamp Rabbit Trail. This 20 mile multi-use greenway system runs along the Reedy River connecting the old railway system between Greenville and Travelers Rest.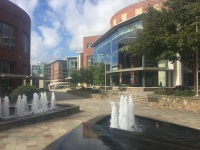 Greenville, SC. Would have been perfect perhaps 10 years ago, but it's gotten so big now and so complex. If only there were a magic wand to go "POOF!" and erase everything built over the last few years. I'm just too late to the party on Greenville. And I'm sad, because I can see what it used to be. Editor comment: Here is what someone else had to say about Greenville: Downtown Greenville is unique in that it is located right at its scenic falls, and along a beautiful park and trail system. Home to many restaurants, boutiques, and weekly festivals, the downtown is busy even on Sunday mornings.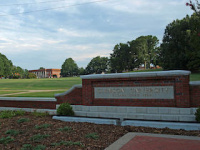 Clemson, SC was a side-trip from Greenville. I loved the college campus and little town. Really liked it a lot. I'm going to go back when I make another trip to the state. Editor comment: Clemson University is the cultural center of the city. The university's cultural and sporting facilities provide cultural and recreational opportunities for active adults 55. On game days the 80,000 stadium fills the town with excitement. There is plenty to do and see. Lake Hartwell runs through town, Lake Keowee is nearby.
(second trip): Clemson is now off my list because of prices. I was interested in a small community of new-traditional homes there called Patrick Square, but the prices escalated too quickly and priced me out. There wasn't anything else in Clemson that interested me.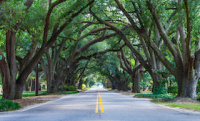 Aiken, SC. Absolutely loved Aiken. Rolling hills, pretty vistas, very adorable old-timey main street downtown. Also has all the shopping and medical I would want. I'm not a horse person, but nonetheless felt I could fit in there. I didn't see a single soul walking around in riding gear though. My main objective in Aiken was to explore the Woodside Plantation community, which I could not have entered unless with a realtor. I stopped at Coldwell Banker and a lovely woman (Patti) spent two hours driving me around W.P. and Aiken. I could be quite content to live in this town. Negatives? Well, I've thought about it, and here's what I think. It's isolated. Is that good or bad? Both. Will friends and family go "Ugh!" at the thought of just getting there? Or would I feel that way when wanting to fly anywhere? Worth thinking about.
(second trip): I crossed Aiken off my list because I kept getting bit by no-see-ums, to the point I just couldn't put up with it (this was January, if that matters). People have since told me those little devils are all throughout S.C., but Aiken was the only place I was bitten by them. And so ferociously! I don't know what to make of it, except that Aiken is now off my list. Pity, because I really liked Woodside Plantation.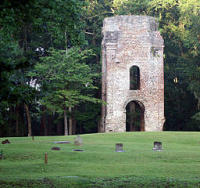 Summerville, SC. Way more spread out than I had imagined for a town that size. With the exception of the area around the freeway interchange, it's pretty, with tall trees everywhere. There was an Italian festival going on downtown, where I hear there's always something interesting going on. Wide variety of housing types and prices. My budget is in the $300's or less, so no problem finding lots of candidates. Seems like a real nice community. I lean towards living in a community where I would be a "member." That might be a 55+ place like Cresswind, or an all-ages like Summers Corner or Carnes Crossing on the other side of I-26. Or even a more middle-class neighborhood like Trillium (around $200K), where the houses all have front porches and the garages are in a rear alley. There's a community pool too. I really liked Summerville. A top contender.
(second visit): Pretty much off my list now. I re-visited The Ponds and Summer's Corner and really like both, but lean towards The Ponds because of its 55+ neighborhood, Cresswind. Unfortunately, the home prices have gone up a lot more than a lot of other real estate I've looked at, and that really annoyed me. That's why I've cooled on Summerville, although I do take a peek now and then.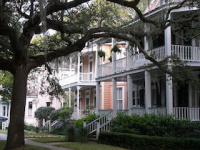 Beaufort, SC. On the drive from Summerville to Beaufort, all of a sudden the terrain switched very dramatically. I came out of the forest and into the swamp. Visually I found that lacking in appeal. I toured Celadon, a new-traditional development in Ladys Island just a few minutes from central Beaufort. The homes are like those in Summers Corner – love this style and will try to buy this type of home. What concerned me about Celadon is that the neighborhood is entirely shrouded by a mossy tree canopy. I like a lot of light in my home, and as much as I loved this neighborhood I feel that I'd become depressed with all the shade. Took a quick drive through CitiWalk and it's just too small. Would not offer anything for seniors looking for a feeling of community. Editor comment: The second oldest city in the state, its history is reflected in the horse-drawn carriages that roll along streets in the town's charming historic district overhung with Spanish moss. 
Bluffton, SC. I spent the evening in old town Bluffton, which was a lot smaller than I'd expected. I got the feeling that it's a tourist kind of downtown. Overall, it was hard to figure out where I'd fit in Bluffton. I liked the look and feel of the town, but didn't see enough to know. So don't put much stock in my opinion here. I liked it enough to go back, I'll say that. One thing to note is that it's only 30 min to the Savannah airport. Also, the new branch of Univ South Carolina Beaufort is right there in Bluffton. I wanted to drive through Sun City Hilton Head, so I tailgated my way through the security gate and drove through really quickly. It's pretty, and I'd definitely make time on a return trip to give it a proper look. It's also pretty large, meaning there'd be tons of activities for seniors. One negative I see online quite a bit is the heavy, heavy traffic heading in and out of Hilton Head island. They say it's only getting worse. Big boulevards, you drive for miles and miles to get anywhere. I made time to drive through Hampton Lake, and it was probably a good fit for me in terms of lifestyle, loved the fantastic pool and clubhouse facilities. Homes more expensive than comparables in Summerville, but about the same as Celadon in Beaufort.
(second trip): I re-visited Hampton Lakes in Bluffton, but was unable to find anything small enough for me. I don't want anything over 1600 sq ft. Hampton Lakes is more suitable for people who want at least 2500 sq ft. The two other places I still like in the Bluffton area are Sun City and Margaritaville, and I've been following home listings in both of those places ever since. I'm attracted to them because they offer so much for seniors. 
Savannah, GA. On my second trip I was able to finally visit Savannah. Drove around quite a bit and even spent one night. But the town felt "gritty" to me; that's the feeling it gave me. I was never considering it as a potential retirement possibility, but Savannah is one of those "someday I'll go visit" places I just had to experience.
Summary of trip 1: So that's it, folks. I knew as soon as I got to SC that I really liked it and that this would just be a quick survey of the towns I'd discovered and liked on TopRetirements.com. I'll come back in about a year for round 2. I'll rent a furnished apartment or long-term airbnb (which is what I stayed in every night of this trip) and I'll stay at least 6 weeks. I want to return to Travelers Rest, Aiken, Clemson, Summerville, and Bluffton.
Summary report after Trip 2: Overall, my problem is that I just can't seem to get my California home fixed up to the point I can sell it and get out of here. Approaching 70 now, I can't say I'll ever leave my current home, but I sure spend a lot of time online looking at places I might like to move to someday. My horizons have broadened, and lately I've been looking at Alabama, Arkansas, and North Carolina. Bottom line: I'm just an old, confused woman!
---
Thanks Judith! Your reports and very interesting and valuable.
Bottom line
Judith's explorations show the importance of seeing places for yourself, spending time there and even going back for repeat visits to get an accurate view. There is no substitute for personal experience – no one else's opinion counts for more than your own! Coming up soon we will write a Blog on walkable places to retire in North Carolina. If you have experiences with towns in either the Palmetto or Tar Heel States, please share them with us.
The original article:
10 Great Places to Retire in South Carolina (many great comments)