November 9, 2022 — Even though the Sunshine State typically adds 900 new residents every day, it still has plenty of detractors. You have probably run into many of them, often at a party where people are discussing retirement locations. "I hate the bugs, the humidity, the hurricanes, the sprawl, and the traffic"; that's a pretty good summary of the usual complaints. So if you are one of those who wants to avoid a Florida retirement, where else should you consider? This article will explore some of the potential spots.
One of Florida's obvious attractions is the warm winters it provides. For those who have to have that climate requirement, geography creates some limitations. But there are some possibilities, which we will discuss here, along with some of tradeoffs and comparisons with Florida.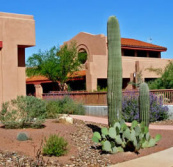 Arizona. The Grand Canyon State is an attractive alternative to Florida, particularly for retirees whose family and friends are west of the Mississippi. Humidity is low, and winters relatively warm, particularly in its southern regions. It does have some nasty critters, but probably not as many mosquitos and other flying annoyances as in its eastern competition. It also has an income tax, something that Florida does not have (but AZ does not tax Social Security). Cost of living is roughly the same – Zillow's Home Value Index is currently $432,000 in Arizona vs. $409,000 in Florida (but prices vary widely by city in each state). There are a lot more retirement locations in Florida – we list almost 1,000 active communities in our FL Directory vs. 325 in Arizona. Our pick for where to retire in Arizona: the Tucson area. It has many communities and the warmest winters. Many communities around Phoenix offer a wealth of retirement possibilities, while Prescott is one of the most popular retirement destinations in the country.
California. This giant state has many great places to retire, and many negatives as well. Much of the negativity comes from high prices and crowding.The sunshine and the mountains are great, providing scenery much better than Florida's. Humidity is low, although earthquakes, drought, and fires represent risks as great as FL's hurricanes. CA has the highest marginal income tax rates in the country, high gas and home prices ($769,000), and plenty of traffic. But for those who can afford it, California climate and beauty offers a tremendous lifestyle. Our California pick: Palm Springs and surrounding communities like Palm Desert. Our Directory lists about 80 potential retirement cities and at least 250 communities to consider.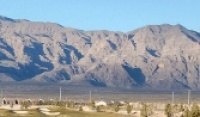 Nevada. Another great pick for low humidity and warmer winters in the Silver State. Most of its retirement locations are near the Las Vegas area, where there are a host of active adult communities in suburbs like Henderson and North Las Vegas. We have just 8 cities profiled in our Nevada Directory. Nevada is one of just a few states that has no income tax, a definite attraction for higher income retirees. The Zillow Home Value Index is $454,000, higher than in the rest of the U.S. and Arizona. Drought and fires are constant threats in this desert environment.
Texas. Like Florida and Nevada, there is no pesky income tax in the Lone Star State (although residents complain about high property taxes). It is dry in much of the state, but there is high humidity along its ample coasts and Houston. The real estate market is less expensive, with a statewide Home Value Index of $316,000, less than the U.S. Index. There are 54 possible retirement towns listed in our Texas Directory with well over 250 active adult or retirement communities (Dallas/Fort Worth alone has over 30). Our picks for retirement towns are in the Texas Hill Country like New Braunfels and around Austin. Communities north of Dallas on lakes like those around McKinney can be nice too, with the plus of being convenient to city attractions. The Gulf Coast is subject to hurricanes, and tornadoes can be a problem elsewhere. Note that although both FL and TX have no income tax, the FL Homestead Act keeps property taxes low for retirees.
Utah. Winters can be cold in much of Utah, but fairly warm in southern locations like St. George, which has become an extremely popular spot for retirement. The scenery and outdoor recreation there is top notch. Statewide, the Utah economy is very robust, with a Home Value Index of $563,000. The area around Park City, which offers skiing and year round recreation, also attracts many retirees to growing towns like Heber City. Fires and droughts are the climate related problems that can happen here.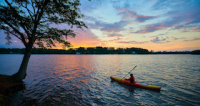 South Carolina. The Palmetto State has a long coastline with many towns that attract people of retirement age. Those include Hilton Head, Bluffton, Myrtle Beach, and Charleston. On the downside, those places share some of Florida's negatives such as bugs, humidity, and traffic. Inland there are towns near lakes and mountains, offering cooler summer temperatures. Those include Clemson and towns around Lake Keowee. We have 35 retirement towns profiled in the SC Community Directory, with over 100 active communities. The South Carolina Home Value Index is at $299,000, and the State is considered fairly tax friendly to retirees.
Georgia and Alabama have many fewer places to retire than Florida, their big neighbor to the South. Georgia does have towns on the coast like Savannah, very popular with retirees, as well as mountain towns in the west like Dahlonega and Blue Ridge that have cooler summer temps and lower humidity. The Alabama coastline along the Gulf attracts retirees to towns like Mobile, Gulf Shores, and Fairhope. Both states have Home Value Indexes below the National figure, Alabama's at a low $212,000, while Georgia's is $323,000. Property taxes are low in these states.
International
For those who might be willing to go abroad for their retirement, either year round or for part of the year, there are some interesting, warm alternatives to Florida.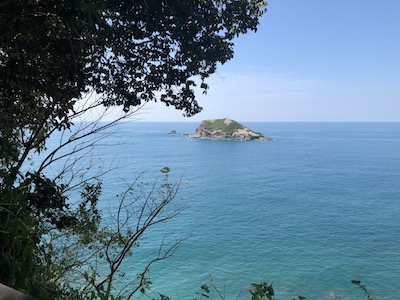 Costa Rica. Considered the most politically and economically stable country in South America, Costa Rica is nature's paradise. The country is committed to protecting its beautiful environment. The area around San Jose is the most populated part of the country, while there are many smaller coastal towns with great beaches and nearby mountains. We have 10 towns profiled in our Costa Rica Directory, including one of our favorites, Quepos-Manuel Antonio. The website Numbeo.com estimates that the cost of living in Costa Rica is 33% less than in the U.S. The country has good health care and is trying to cultivate medical tourism.
Panama. Another strong possibility as an alternative to Florida is Panama, which uses the U.S. $ for its national currency. Many American and Europeans have retired here, mostly to beach towns like Coronado Beach, or in the mountains like Boquete. The cost of living is estimated to be 33% less than in the U.S.
Spain. The Costa del Sol is legendary as a retirement destination for Europeans, attracted by sunshine, warm winters, and a beautiful coast. The cost of living in Spain is 34% less than in the U.S. A friend of ours described Malaga, a city and area on the southern coast, as the most beautiful place he had visited in Europe.
Portugal. This country has many attractions for retirees, starting with its cost of living, 56% less than in the U.S. It also has a warm climate, beautiful towns, and a long coastline on the Atlantic Ocean. Residents of the European Union can easily retire here, but Americans and others can as well, provided they buy a home worth at least €500,000. The Algarve is the beautiful and popular coastline of southern Portugal, made up of 16 different municipalities, miles of stunning beaches, rugged cliffs and hidden coves.
Bottom line
If you have definitely ruled out Florida as a place to retire, you are not out of luck. You can definitely find a state that has some of its attractions and fewer (or maybe different) negatives. It could be fun to compare them and find one that meets your needs.
Further reading: