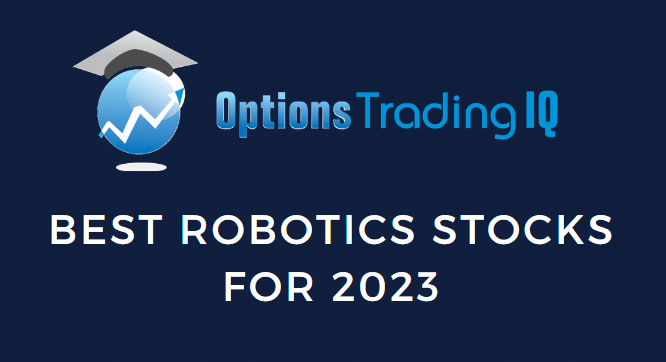 As technology continues to advance, robotics has become a booming industry.
Many companies are investing heavily in this sector, and as an investor, it's important to know which stocks have the best growth potential.
In addition to robotics, Machine Learning and AI have become a hot investing topic.
Let's take a closer look at some of the best robotic stocks for 2023.
Contents
Here are eight of the best robotics stocks that are worth considering:
NVIDIA (NVDA) is a technology company that designs and manufactures system-on-a-chip units (SoCs) and graphics cards (GPUs) for the automotive markets, data centers, gaming, professional visualization, and consumer use.
The company is on the Nasdaq exchange, and as of May 2, 2023, NVIDIA had a market capitalization of $685 billion, making it one of the biggest robotics stocks by market cap.
NVIDIA's GPUs are commonly used to create interactive graphics on workstations, laptops, and mobile devices.
The company also provides processing services to researchers with its Tesla line of GPUs.
In addition, NVIDIA is a leader in the development of artificial intelligence (AI) and machine learning (ML) technologies – which are used in a variety of applications, including autonomous vehicles, robotics, and, most notably, the rise of AI through GPT3/4.
NVIDIA's financial performance has been strong in recent years.
In its fiscal 2022 results, the company reported revenue of $23.5 billion – an increase of 53% compared to the previous year.
The company's net income for the year was $6.7 billion – up from $2.8 billion in the previous year.
As of May 17, 2023, NVIDIA's stock price was over $300, with a PE ratio of 116.28.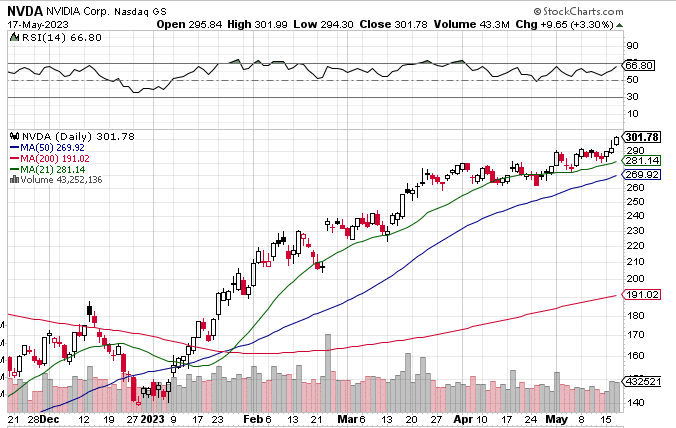 Becton, Dickinson, and Company (BDX) is the world's largest manufacturer and distributor of medical surgical products, such as syringes, needles, and sharps-disposal units.
The company also develops and sells diagnostic products, laboratory equipment, devices, and medical supplies used by the general public, the pharmaceutical industry, clinical laboratories, life science researchers, physicians, and healthcare institutions.
BD operates through three business segments: Interventional, Life Science, and Medical.
It produces medical technologies and devices to help improve healthcare delivery.
BD's software solution, BD Cato, ensures the collaboration of robotic compounding solutions into hospital infrastructure.
While this is not a straight robotics stock, with the rise of surgical techniques that are less and less invasive, companies that can create both the software and hardware could be in high demand.
For the fiscal year 2022, BD reported $2.002 billion in earnings, with $53.866 billion in annual revenue – an increase of 10.5% over the last fiscal cycle.
BD's shares are trading at more than $250 per share. Moreover, its market capitalization was above $71 billion in May 2023.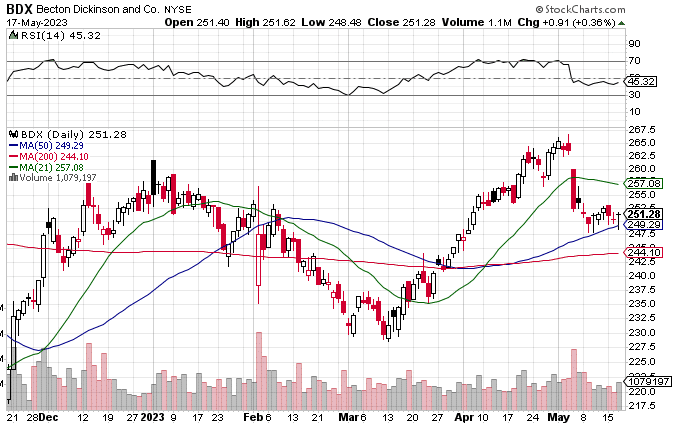 ISRG is a global technology leader in robotic-assisted, minimally invasive surgery.
The company designs, develops, and markets its da Vinci system, which is utilized by surgeons all around the globe.
The da Vinci system is a robotic-assisted platform that allows for better patient outcomes in a variety of surgery types, from spinal to cardiac.
The system is developed to enhance the clinical outcomes of patients via minimally invasive surgery (One of the more common uses is laparoscopy surgery).
Intuitive Surgical is part of both the NASDAQ-100 and the S&P 500.
It is a leader in surgical robotics and was the first company to make a minimally invasive surgical robotic system to receive clearance from the FDA.
The medical robotics market is expected to reach $44.45 billion by 2028, and surgical robots are increasingly being used in a variety of surgery types.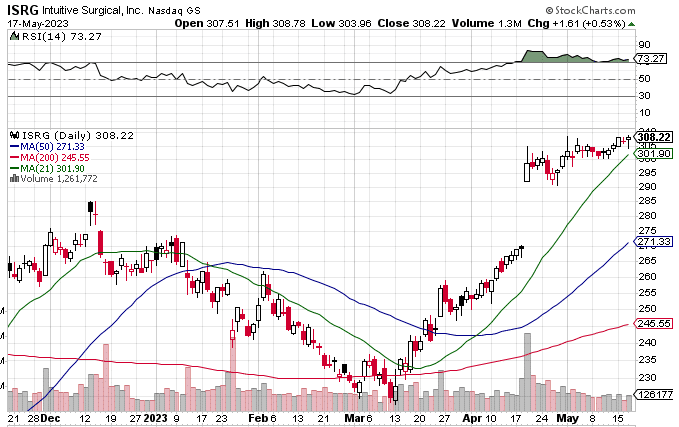 Thermo Fisher Scientific (TMO) is a company that operates through four business segments: life sciences solutions, specialty diagnostic products, analytical technologies, and laboratory products and services.
The company is one of the largest life science suppliers, with an unmatched portfolio of products and resources for labs.
Thermo Fisher Scientific is one of the world's most respected brands in education, safety, scientific research, and healthcare.
Its services and products cover a wide range of areas, such as software designs, automated laboratory robotics, chemistry and consumable supplier, lab products, and analytical instruments.
The company went public in 1999 and has survived two major market downturns proving it can thrive in almost any type of market.
Despite challenges around the economy and spending budgets, Thermo Fisher Scientific managed to deliver its best year ever in 2022.
The company has a strong business strategy and outlook, and it is one of the biggest companies in the robotics industry.
Thermo Fisher has a market capitalization of US$200 billion and is currently trading at around $520 per share.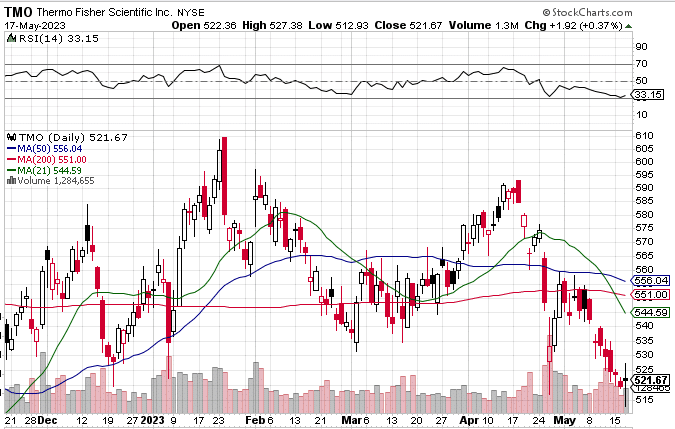 Teradyne is an American automatic test equipment designer and manufacturer based in North Reading, Massachusetts.
The company operates through four segments: Wireless Tests, System Tests, Industrial Automation, and Semiconductor Testing. Teradyne's high-profile customers include IBM, Texas Instruments, Analog Devices, Samsung, and Qualcomm.
Teradyne's position as a leading supplier of test equipment for the semiconductor industry and its strong financial performance are some of the common reasons to invest in the company.
In March 2023, UBS raised Teradyne's stock price target to $140 from $100. The company's Q1 results were also above Wall Street expectations, and Teradyne said that recovery for industrial automation is "in full swing."
This company can potentially be an industry leader, especially if the CHIPS Act brings semiconductor manufacturing back to the US.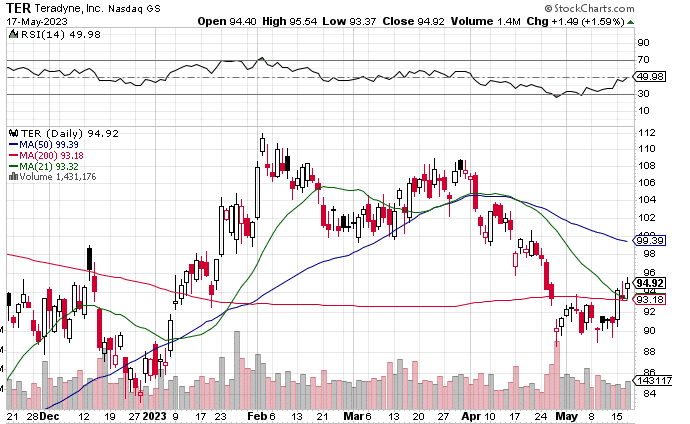 BOTZ is an ETF that focuses on investing in corporations that have the potential to gain from the growing implementation and usage of AI and robotics.
The fund's objective is to achieve investment outcomes that typically match the Index's price and yield performance (excluding fees and expenses).
The ETF started trading on September 12, 2016, with a total expense ratio of 0.68%.
BOTZ invests in companies with high exposure to the Robotics and Artificial Intelligence theme, including those related to self-driving vehicles, non-industrial robots, and automation.
The fund is non-diversified, representing a higher risk alongside a higher return.
While this isn't a company directly, this could be a great way to access multiple companies in the space through one investment vehicle.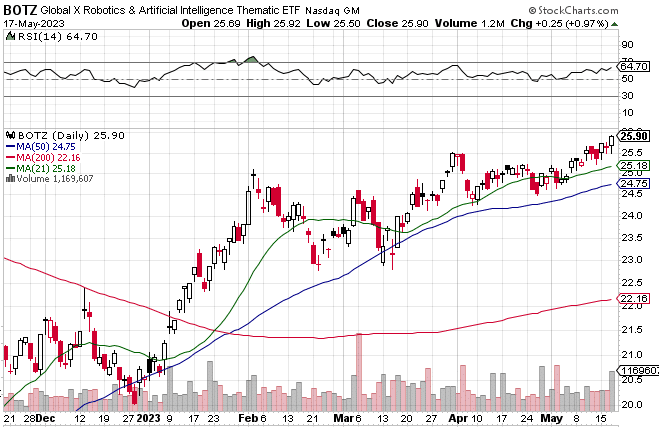 ABB is a pioneering leader in electrification and automation, working closely with transportation, industry, utility, and infrastructure customers.
It is well-positioned to be a leader in industrial automation and digitization.
The company's solutions connect engineering and software to optimize how processes and equipment are operated, powered, moved, and manufactured, enabling a more sustainable and resource-efficient future.
ABB has nearly 21,000 employees in 53 countries around the globe, with facilities for research and development (R&D) and manufacturing located in Mexico, Japan, the Czech, China, and other countries.
The main office of the company is in Switzerland
ABB is one of the top robotics companies in the world, with a long history dating back to 1883 when the company got into an innovation called "Electricity."
While the company's diversification provides stability during economic downturns, it has typically performed better during periods of economic growth.
Plus, with a growth rate of 18.5% for the current year, 310%, the company is expected to generate fantastic revenue in the future.
ABB's price-to-earnings ratio is just 23.75. It is ideal in terms of earnings growth.
With a 1.50% dividend yield, the company can provide investors a "trifecta" of value, income, and growth.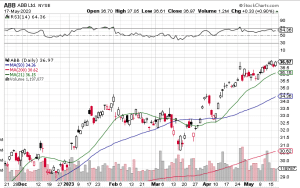 The robotics industry is set for continued growth in 2023 and beyond, potentially revolutionizing various sectors.
Investors who are interested in this sector should consider adding the above-mentioned top robotics stocks to their portfolios.
While no investment is risk-free, these companies have strong potential for growth and are well-positioned to capitalize on the expanding demand for robotics and automation solutions.
We hope you enjoyed this article about the best robotic stocks for 2023.
If you have any questions, please send an email or leave a comment below.
Trade safe!
Disclaimer: The information above is for educational purposes only and should not be treated as investment advice. The strategy presented would not be suitable for investors who are not familiar with exchange traded options. Any readers interested in this strategy should do their own research and seek advice from a licensed financial adviser.