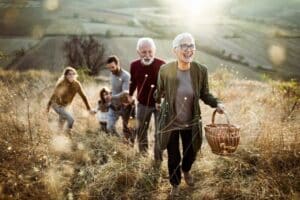 You may be among the millions of Americans who serve as the primary caregiver for a loved one. 65 million American women, for instance, provided unpaid care for their children, family members, and elderly relatives in 2020. (1) If you are like many caregivers, you may be experiencing feelings of overwhelm and exhaustion.
If caregiving has begun to interfere with your mental, physical, or financial health, it may be time to re-evaluate. Read on to learn our top tips for balancing the burdens of caregiving with the rest of your daily life.
Establish a Caregiving Support Team
You may already have a network of people who can help in situations such as these. Choose people you know to have the capability to assist you, and ask each person to take on at least one task. No matter how small, a little help can go a long way. Consider which people you can rely on when you absolutely need a break, be it another family member, a caregiver service, or an adult daycare center. (2)
Let's take a moment to acknowledge the immense stress and mental health toll often associated with caregiving. When you need help, do not hesitate to speak with a mental health professional who can guide you through your emotions and help you develop healthy coping strategies.
Form Relationships with Other Caregivers
Consider joining a caregiver support group. This can be a meaningful way to connect with others and recognize that you are not alone in your caregiving experience. In fact, you have likely developed skills and knowledge that can be very helpful to other caregivers in the same situation. When you share your experiences, you may find others who can offer knowledge and resources that help you in return.
Schedule Regular Time for Yourself
From time to time, we all need a little reminder of how important our own health and well-being are. Along with regular exercise, attending routine check-ups for your own health is crucial to give you the stamina to juggle your life and your caregiving duties. (3) Pursue goals or fulfilling activities you want to try, like yoga, golf lessons, or learning to play a musical instrument. Join a gym or book club or regularly meet up with friends —even when you feel tired — because it will likely energize you. Look for opportunities to laugh often. Spend time by yourself and with people you like whenever you can. Whatever your passions may be, don't lose sight of them. You must do things you love in order to nourish your soul and replenish your strength, especially in times like these.
How We Can Help
Although it may be challenging, finding ways to make space for yourself and your needs is critical as a caregiver. At The Retirement Solution, we can help ease some of your burdens by becoming your partner for long-term financial planning. Sign up for a complimentary consultation so you can take care of your financial well-being for years to come.
1 National Partnership for Women & Families. May 2021. "Women Carried the Burden of Unpaid Caregiving in 2020." https://www.nationalpartnership.org/our-work/resources/economic-justice/women-carried-the-burden-of-unpaid-caregiving-in-2020.pdf. Accessed March 22, 2022.
2 Mayo Clinic. March 22, 2022. "Caregiver stress: Tips for taking care of yourself." https://www.mayoclinic.org/healthy-lifestyle/stress-management/in-depth/caregiver-stress/art-20044784. Accessed March 22, 2022.
3 American Heart Association. Oct. 25, 2021. "Top 10 Caregiver Tips for Maintaining Health and Well-Being." https://www.heart.org/en/health-topics/caregiver-support/top-10-caregiver-tips-for-staying-healthy-and-active. Accessed March 22, 2022.
Investment advisory services and insurance services are provided through The Retirement Solution Inc., a Registered Investment Advisor. The Retirement Solution is a registered investment adviser and may only transact business and offer advisory services in those states in which it is registered or exempt from registration requirements. Insurance products and services are offered and sold through individually licensed appointed agents.
We are an independent firm helping individuals create retirement strategies using a variety of insurance and investment products to custom suit their needs and objectives. This material is intended to provide general information to help you understand basic financial planning strategies and should not be construed as financial or investment advice. All investments are subject to risk including the potential loss of principal. No investment strategy can guarantee a profit or protect against loss in periods of declining values. Asset allocation or diversification does not ensure a profit or guarantee against loss; it is a method used to help manage risk.
The information contained in this material is believed to be reliable, but accuracy and completeness cannot be guaranteed; it is not intended to be used as the sole basis for financial decisions. 4/22-2112793C
DA-002293.1